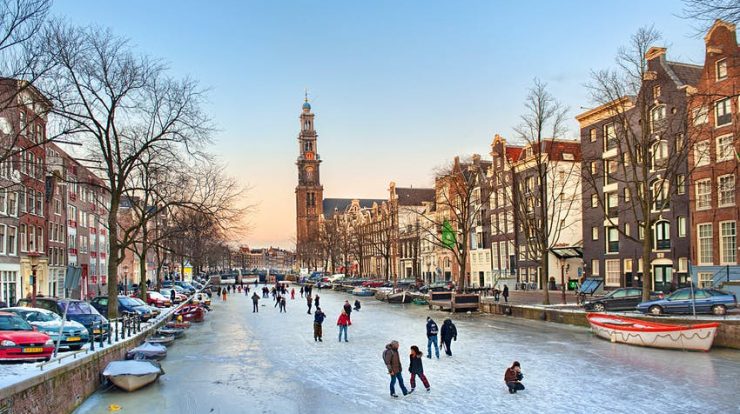 Across the channel lies a small country in mainland Europe that is home to some of the most beautiful canals and streets. Both Amsterdam and Giethoorn are well known for their canals, but the beauty of The Netherlands does not stop there. Many other nature reserves, cities, and villages are worth exploring. Not to mention the 'afsluitdijk' which is one the world's most advanced water management systems. When you want to travel to The Netherlands, there are many transport modes you can consider. In this article, we will take a closer look at them. 
Take a cab towards your destination
A cab will do if you want to travel from the airport to your final destination. Cabs are relatively expensive in The Netherlands and a short ride to Amsterdam city center easily sets you back 50 euros (~43 pounds). In that respect, the train is a more economic option. The cab can easily bring you to the location you need but is not a sustainable option if you want to see more than just Amsterdam.
Train rides through the country
The Netherlands is home to the busiest train network in Europe, mostly because of the containers that arrive in Rotterdam and travel inwards to other European countries. This resulted in strong infrastructure and connection of cities and villages. Traveling across cities is very convenient with the Intercity train. The prices of train tickets are similar to those in the United Kingdom. The downside of the train is the number of transfers you need to take. Traveling to a small village can easily cost you over two hours from Amsterdam. This makes it undesirable over the flexibility that a car can provide.
Bringing us to the car rental Netherlands option
Taking into account the cab and train, car rental Netherlands is the preferred transport mode when visiting the country. You can easily travel across the country, and as it is relatively small you can go from one side to the other in less than two hours. Want to visit a village? Not a problem for a car rental, it can directly take you there.
The left-side driving wheel is the deal
Well, if you are a picky driver then this could make you reconsider. The driving wheel is on the left side, which can cause some confusion in some situations. For example, you need to make sure you correctly take the roundabout. 
Cars for every occasion
There is a car available for every budget and occasion. Ranging from a small Volkswagen Up to a larger and more luxurious Audi or BMW. You can select a car rental from the airport, or go to a city and pick up a car there. This all depends on your individual needs. Do make sure you do proper research before renting a car. One of the leaders in the market is BB&L Car Rental. You can find more information via https://www.bblcarrental.com/en/.