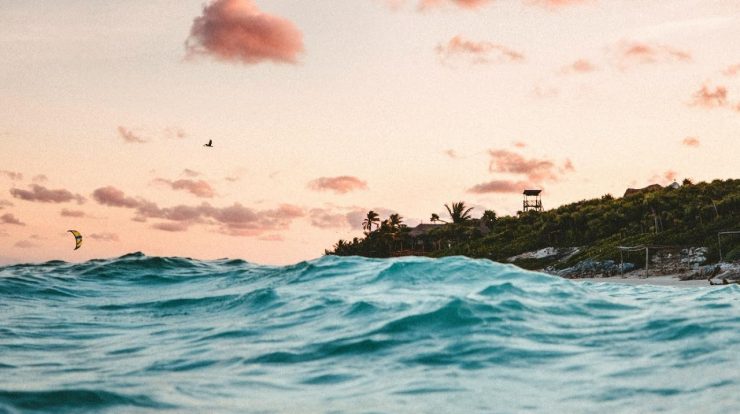 With the beautiful borders of oceans, this popular metropolis – Mexico slides into the bucket list of every travel itinerary. The country is colourful and has a rich traditional impact in every element of the region. With the Pacific Ocean and the Caribbean Sea bordering in the west and southeast, this beautiful place assures great beaches to get you the lovely sun-kissed look. Spanning over 7 lakhs sq. mi in the area this vibrant place stands as the 13th largest in area. There is a musical charm of the place with folklores with joyful magic in the air. The country is diverse in culture, food, ethnicity, and tradition also still upholds the great history. The booming nightlife can't be missed as the Mexicans are great party lovers they just know how to enjoy life with music, dance, and songs. Here's a list of the awesome places to go in Mexico for a musical vacation.
Playa del Carmen
Playa is one of the beautiful scenic places in the entire world, it has everything a tourist looks for, and it brings serenity, lively bars, and restaurants. The turquoise-colored waters mesmerize you and taking a dip into the clear freshwaters makes you feel refreshed and amused. Mexican food is quite interesting and appetizing it is colourful and loaded with flavours, here at Playa you can snack up on some delicious Tacos at El Fagon, with the Spanish menu – the Al Pastor taco, for cheese lovers the queso fundido with chorizo is packed with enormous amounts of cheese that melt in the mouth, also you can find some of the cheapest guacamoles here. For the late night munches you could hop into La Cueva de Chango for some chilaquiles or huevos rancheros. Famous for its ambiance is the Alux as it is located in a cave. This town nestled in corner of the Yucatan peninsula has some great places to party making the nightlife vibrant and vivacious. Visit the modern Palazzo Disco with complete air condition, it is spacious and has a great dancefloor you can enjoy great performances from live music and artists. One of the best nightclubs that are counted in the top three is the Mandala; it boasts flashy colours and decors in rich pink and red hues. This is a place for loud music, it has no walls, yes; you can experience  cool breeze from outside. The most popular nightclubs in playa are the Coco Bongo, with tiers and the main stage it gives a thrill in partying style. Find amazing acrobats, several DJ's and a variety of party elements. There is an open bar concept here. Just a different shopping experience here at playa; with a wonderful collection of items boasting Mexican design and craft. Find some pretty and useful souvenirs at Playa like T-shirts, liquor, Mexican blown glass, handicraft, table runners, wall hangings coffee, etc. The 5th avenue is well known for apparel shopping, get some stylish clothes here at Paseo Del Carmen– explore clothing's from brands like Diesel, Ultrafemme, and American Apparel also get a hot cup of tasty brewed coffee at Starbucks, at Calle Corazon- look for Lacoste, Michael Kors, and Swarovski, with street performances and affordable items Quinta Alegria makes a great shopping option. Some more malls are Plaza Playacar, Plaza Las Americas, and Centro Maya 
2. Mexico city
The densely populated capital city -Mexico City built on the drylands of Lake Texcoco is covered with massive mountains on three sides and located in the Mexico valley. It is an absolute favourite for travel journals as it showcases great culture, architecture, and museums representing unbelievable history. The tourists gaze at the starry nights and cool breezy beaches and yet can party hard in thriving nightclubs with glam and loud music. The food is amazing with the uncompromised Mexican cuisine to bring the authentic taste in taco, burritos, tortas, quesadillas, and enchiladas. It also harnesses amazing shopping centers; Some beautiful places to shop are Mercado De Artesanias La Ciudadela,Mercado de San Juan,Mercado de Coyoacan,El Bazar Sabado, Antara Fashion Hall. Aside from fashion get some souvenirs like organic coffee, a bewildering plethora of mole paste, and Mexican chocolate. 
With artistic decoration the Mexican restaurants exhibit Mexican haute cuisine some must–visit restaurants are; Panaderia Rosetta- it serves the best guava pastry, amazing cappuccino, and baguettes. Quintonil serves mouth-watering dry-aged duck breast with bitter almond and habanero purée, and cactus sorbet, at Máximo Bistrot dig in some heavenly risotto and ravioli.
3. Cancun: 
In the borders of the Caribbean Sea lies the beautiful city filled with wilderness and exotic nature that impresses every traveller making the trip an unforgettable one. The Zona Hotelera boasts the presence of a rich lifestyle with high-rise hotels and restaurants, peppy nightclubs, shopping places, and more. It is majorly known for adventure water sports like deep-sea diving, watching sea creatures closely for a breath-taking experience.
 Things that you can't miss are experiencing the marvelous Maya city of Chichen Itza with unbelievable pyramid ruins, snorkel with the endangered whale at Yucatan coast, dive into the cool waters in cenotes, get amazed with the 500 and counting sculptures designed in the artificial reef- this underwater museum Musa is an awesome place to be.       
4. Tulum
One of the best bets for beach destinations is Tulum as it has serene seashores that please the visitors, the cenotes are thrilling adventure spots, enjoy diving and snorkeling as there are several places to dive in. if you have an interest in archaeology watch the Tulum ruins and descend to the Playita Tortuga beach. Another green-hued beach is the Playa Pariso Beach which is one of the public beaches with ample restaurants and resorts. The Kaan Luum Lagoon is a picturesque escape into the wild nature with calm and shallow waters to paddle and swim in the cool waters to making the vacation fun and enjoyable.
5. Puerto Vallarta: 
Lying on the pacific coast this charming and quaint town is a hub for beaches, hotels, and resorts. It is a must-visit as it has stunning boardwalks through Banderas Bay. Stroll to view fantastic sculptures and arts in galleries, in the end of the walk take a look at the iconic places Los Arcos or the Church of Our Lady of Guadalupe, Puerto Vallarta also gives you a glimpse of the Botanical Gardens of Vallarta.