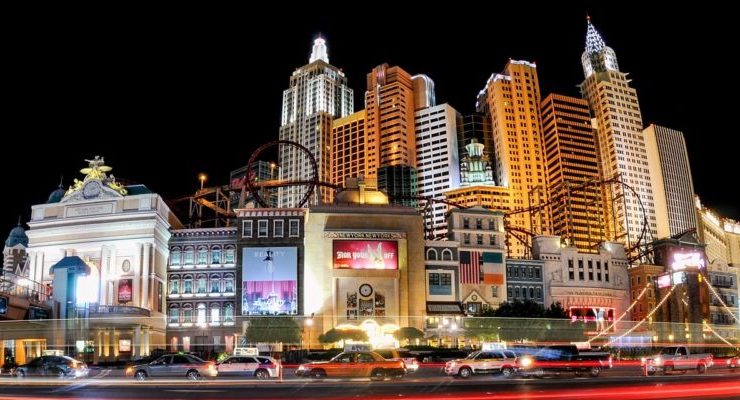 Las Vegas, the loudest city in America, has been in a state of slumber as the country fights an invisible war in an attempt to grapple control over the deadly COVID-19 virus. 
Make no mistake about it, when the world eventually does get back to some resemblance of normal, tourists will quickly return to the entertainment capital of the world in order to get their fix of over the top, exuberant, guilt-free fun. 
Naturally, the main attraction in Vegas will always be the lavish and elaborate casino-resorts and electrifying nightlife, as you're soon to discover. But that's not to say there aren't thousands of other weird and wonderful things to see and do in Sin City.
Perhaps you've already begun planning your trip as something to look forward to in the not-so-distant future? Well before you completely fill your itinerary, take a look at our comprehensive list of some of the quirkiest tourist attractions that you can only do in Vegas. 
Take a nostalgic step back in time at the Neon Museum 
Las Vegas is renowned for its iconic neon signage that illuminates the Strip all day, every day, all year round. However, as this bustling city continues to evolve it's inevitable that just as quickly as new buildings and signage goes up, old ones must come down. 
Thousands, if not millions of dollars have been invested in making awe-inspiring and eye-catching casino signage over the years… So why let it all go to waste? 
The Neon Museum on 770 Las Vegas Blvd N was founded 24 years ago and has dedicated itself to collecting and preserving the most iconic Las Vegas signage so that we can all take a step back in time and enjoy the beautiful and iconic works of art that have lit up Sin City.
The 2 acre museum has over 200 signs dating all the way back to the 1930s, so you're not going to be short of things to see if you do choose to visit this fantastic museum. Make sure your phone is fully charged, as this is a true Instagram goldmine. 
If you can't make it to the Neon Museum during your visit, rest assured, you can still take a full tour using their very own innovative smartphone app which is a welcome addition for those of us unable to attend.
However, if you can visit and really want to experience The Neon Museum in all its glory, we'd recommend visiting at night time and taking a scenic stroll around their two famous outdoor Neon Boneyards. It will truly take your breath away.
Brave a World Record leap of faith – The Stratosphere SkyJump
If the buzz of the casino floor isn't enough excitement for you, you'll be delighted to hear that there are some absolutely incredible white-knuckle thrill rides to be found in Vegas. 
The Stratosphere SkyJump holds an impressive Guinness World Record for being the highest controlled descent in the entire world, so if you really want to feel the thrill of falling 855 ft then this attraction is perfect for you. 
Unlike a traditional bungee jump, the SkyJump is essentially a vertical zipwire, so rest assured, once you've taken that leap of faith your descent to the ground will be relatively smooth, yet utterly terrifying. 
If you get to the top, peer over the ledge and realise this isn't for you that's okay! Thousands have changed their mind once they've seen the descent, if you do decide you can't go through with it then you'll receive a 'Chicken Out' voucher that can be given to a friend so they can make the jump instead.
The Stratosphere has plenty more thrills up their sleeve, if this isn't enough you can also take a ride on three other rides that are just as exciting: Big Shot, Insanity and X-Scream.
If you want one of the best views of the Las Vegas Strip then it would be well worth visiting The Stratosphere casino resort. Be warned though, that view isn't going to last too long once you've leapt from the 108th floor.
See the Hoover Dam, a true engineering marvel  
We thought about including the Grand Canyon in this list, however odds are if you're going to Vegas, you're already going to make the effort to visit it… 
Instead we're recommending the Hoover Dam, a true feat of engineering. This famous dam, built during the Great Depression, saw thousands of families leave their lives behind to move to the barren Nevada desert in order to help build this megastructure in just 5 years.
A mindblowing 5 million barrels of cement and 45 million pounds of reinforced steel were used to tame the Colorado River, providing power to 1.3 million homes across America and aiding the development of great American cities such as Las Vegas, Phoenix and Los Angeles.
If you do plan on visiting you can take a truly riveting interactive guided tour around the dam and powerplant where you'll discover the amazing history behind the iconic structure. 
A personal highlight of this tour is the opportunity to take a stroll across the Mike O'Callaghan-Pat Tillman Memorial Bridge, the world's tallest concrete arch bridge. If you feel you might want a break from the bright lights of the city then this tour is a welcome change.
Grab your cash and hit the world famous Vegas Strip 
We know there are casinos in various cities all around the world and online, however dnone are quite as special as those in Las Vegas. Even if you prefer to place your bets online, it has to be said that Vegas resorts are quite simply a cut above the rest, they're truly spectacular.
Which casino you visit totally depends on what kind of experience you're after. For something truly magical then you'll want to visit the Bellagio hotel-casino.
Every single day the casino puts on multiple shows at the Fountain of Bellagio. This epic show consists of 1214 jets of water that shoot from the depths of an incredible 8.5 acre lake and 460 metres into the air. This free spectacle takes place on regular intervals day-and-night, so there's absolutely no chance of you missing it. 
Of course, we shouldn't forget the casino itself, this gorgeous resort is known for Bobby's Room, a famous and exclusive high-stakes poker room.
If you're looking to be entertained then perhaps the MGM Grand should be on your list, once famed for having its very own Lion habitat, this incredible casino-hotel now has the MGM Grand Garden Arena, which has played home to countless heavyweight boxers, famous musicians and the absolutely mindblowing Cirque du Soleil. 
If you're looking to gamble in true style whilst enjoying some of the finest luxuries you should really give some thought to visiting Caesars Palace, the iconic ancient Rome themed casino is famous for being home to some of the best tables in Vegas, Gordon Ramsay's world famous Hell's Kitchen restaurant and the high-end 'Shopping Wonder of the World' Forum Shops, which boasts over 160 luxury brands.
Live and perform with real rock stars at Rock Camp
By far our favourite Vega activity on the list… This one is going to require you to be able to give up at least 4 days of your trip to Vegas at a very specific time… But man, is it worth it! 
The incredible Rock and Roll Fantasy Camp at the Hard Rock Hotel and Casino in Las Vegas offers music fans from around the world the once-in-a-lifetime opportunity to live the life of a rock star, if only for a handful of days. 
At this utterly unique adult summer camp, you'll be placed in a band with like-minded and equally skilled campers and be assigned your very own Rock Star Counselor to mentor you for the entire duration of the camp. 
You'll get to rehearse, live, eat and interact with your Rock Star Counselors every day, really putting you right into the thick of it with some of your rock and roll heroes. This truly once-in-a-lifetime exclusive opportunity really is like nothing else on this list. 
There are no celebrity sellouts working at this camp, counsellors have included: Slash from Guns N' Roses, Gene Simmons of Kiss and Aerosmith's Steven Tyler just to name a few. If you're a hardcore music fan with four days to kill and $5,000 spare then Rock and Roll Fantasy Camp is a MUST.