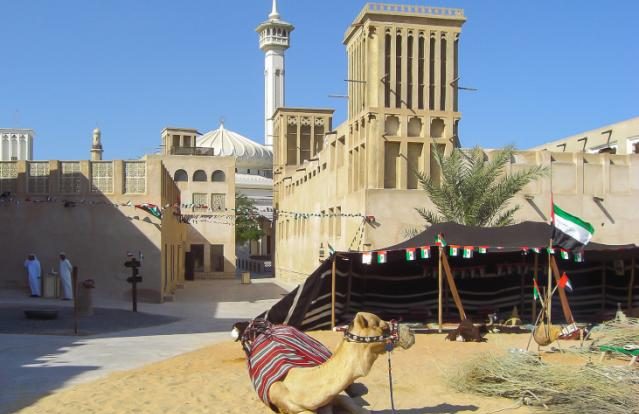 Taking a cultural tour of Dubai and Abu Dhabi exposes you to study the culture, witness the heritage of emiratis steeped in art and architectural grandeur and magnificence. Cultural experiences last longer in memory as you unearth their history, language and establish a connection with the people which ultimately proves to be the most rewarding aspects of the tour.
Sheikh Zayed Mosque CulturalTour
With this Dubai sightseeing tour, you can explore the history of Abu Dhabi, thecapital city of UAE. Marvel at the white façade of the majestic Sheikh Zayed Grand Mosque, fourth largest mosque in the world. This tour helps you to learn about the history of the Grand Mosque, its traditional design from floor to ceiling and its symbolism of contemporary Islamic architecture in the world. If you are taking a Dubai city package tour that includes a visit to this mosque, then your tour guide will pick you from your hotel or accommodation to explore this gigantic masterpiece covering 30 acres of land. Its main dome is one of the largest mosque domes in the world and it has the world`s largest woven carpet, world`s largest chandelier and world`s largest marble mosaic floral pattern.
Abu Dhabi Heritage Village Cultural Tour
Visit the rich heritage village in Abu Dhabi which is a model of an Emirati village exhibiting a Bedouin lifestyle and heritage. It is an interesting cultural attraction to gain insight into the pre-oil era of the United Arab Emirates and of the traditional way of life in the UAE. You can have a glance at the Barasti house (palm leaf houses) with ox-drawn wells and ancient falaj system which still waters the plantations in the oasis of Al Ain and Liwa till today. You can watch camel racing, goat hair tents for camping, craftsmen at tannery, pottery, glass –blowing workshop and also honing the blades of the traditional curved dagger, Khanjar. Don't miss the museum with an attractivedisplay of jewelry and pearls.
Dubai Al Fahidi Historical Neighborhood Tour
Take a glimpse into how Emiratis from past generations lived in this neighborhood during the mid 19th century in this maze of old-world wonders. Located at Dubai Creek in Old Dubai this key heritage site has preserved much of its past as you walk down its alleys, twisted pathways, breezy towers. In its winding streets, you will discover the story of life before Emirates in its museums, art galleries, cultural activities, traditional food, traditional wind towers made from stone, teak, sandalwood, palm wood and gypsum and coral blockhouses.
Dubai Sheikh Saeed Al Maktoom House Tour
It is a historical site that served as a residence of the ruler, Sheikh Saeed Al Maktoom. Constructed in 1896 in the secure Al Shindaga area, gives you a fascinating glimpse of the region`s history. Today it is a museum with rare historical photos and displays of Arabic paintings, artworks, lithographs of Dubai`s history.
Dubai Sheikh Mohammed Centre of Cultural Understanding Tour
Head to this place in the city as it is the best place to learn about the heritage and tradition of emiratis. This cultural tour offers you a chance to comprehend the Emirati culture and legacy.