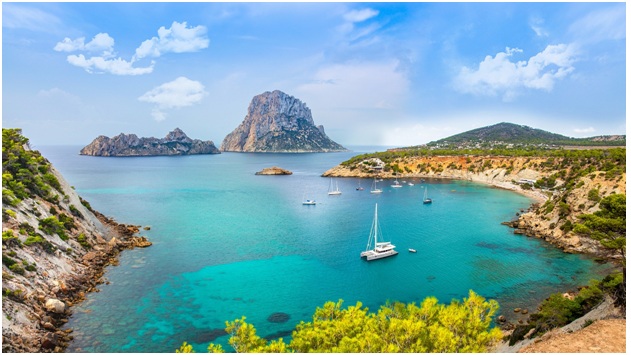 While Ibiza may be more famous for its endless parties, the paradisiacal island is also a great family destination. If you find yourself booking a trip to Ibiza with the kids in tow, we've got you covered. There are plenty of child-friendly activities to ensure a fun-filled holiday for the whole gang, from kids to adults. Options are aplenty, so we have selected 7 fool-proof ones that you can never go wrong with. In fact, make sure that these are on your itinerary, as you really don't want to miss them.
Family beach fun in Ibiza
A trip to Ibiza won't be complete without a day or two at the beach. The island is known for its azure water and powdery sand, with views out to the horizon that promise to take your breath away. Whether you prefer water sports, swimming or relaxing at a seaside restaurant, there is a beach that suits your preferences.
As you indulgently lounge by the seaside and take in the magical view and golden island rays, the kids can have fun with the water or build sand castles. Be sure to bring some beach toys to make sure they have a blast!
We highly recommend Cala Llonga for its huge stretch of sand, shallow waters and endless choices for restaurants and cafes. Besides, if you want to play some water sports, you will find a variety of options here. On top of that, there's even a playground on the sand and a mini amusement park. Admittedly, due to its wonderful selections of activities, Cala Llonga is a popular spot for family holidaying in Ibiza.
If you prefer somewhere quieter, check out Cala Llenya. At the back of the beach, you will find an area shaded by pine trees, making it a great spot for picnics.
Ibiza on a horse back
We have never seen a child who doesn't get excited by the idea of riding a horse. Just outside of Ibiza Town, you will find Horse Valley where riders of all levels are welcome. The minimum age is 12 years old, so it's perfect for the tweens in the family. You can join a half-day or full-day guided excursion to explore Ibiza's forests, mountains and beaches. If you need something extra-special, Horse Valley offers customised experiences with camping and swimming – a truly unique way to spend your day in Ibiza. It will be a fond memory for the family for years to come.
Make a wish at Cala D'Hort
According to the local folklore, while standing on Cala D'Hort beach and looking off to Es Vedra, if you make a wish, it will come true. Beautiful and mythical, the view of Es Verda is a sight to behold. Be sure to go there during sunset time, as it's one of the most gorgeous views mortal eyes have ever seen. Nature always has a way to remind us of the power of the simplest beauty. As the sun casts shadows on Es Vedra during the magical hour, we find our thoughts quieted and our hearts sing. It's the kind of moments that make us want to believe in the magic of fairy tales. Who knows, we may feel inspired and empowered enough that our wishes will really come true.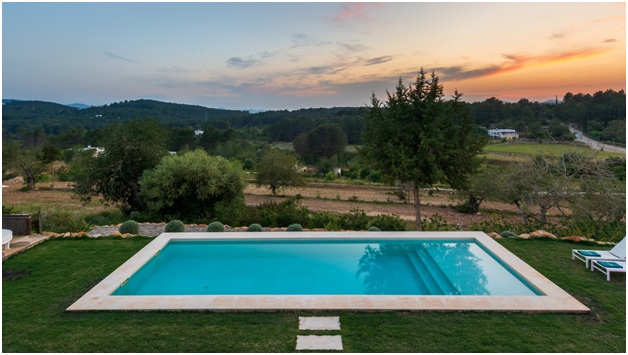 Relax at a family beach club
We include this activity more for the parents than the kids. Planning a family holiday is stressful, and sometimes, we just want to have some time to wind down and enjoy ourselves. Thankfully, there are a number of beach clubs in Ibiza that specifically target the needs of tired papas and mamas. They offer dedicated kids' areas where your little ones can participate in various activities like craft, painting or hanging out with other kids. They also have fantastic kids' menus for kids to recharge when needed. And as your children are safely having fun, you can kick back and leisurely enjoy a chilled drink and tidbits as the day goes by.
Enjoy a unique holiday in a private family villa
For family holidays, nothing beats a relaxing stay in a private Ibiza family villa. You will have access to the entire property, making it your home away from home on the island. Many family villas boast impeccable surroundings, stylish design and the utmost comfort. You have the freedom and privacy to do anything you want, so be sure to make time to enjoy the villa, as it's an experience on its own. You can have a BBQ seafood dinner, a garden party, or simply sip away a pina colada as the kids splash around in the pool. The best part? There are no other guests around. It's all yours.
Check out Ibiza markets
Beside the beaches, Ibiza is also known for hippy markets, which make the list of every travel guide to this island. Be sure to check out some of these colourful markets where you can find plenty of souvenirs, handcrafted toys and other knick-knacks. The markets are open at night, from 7pm onwards, so it's a perfect after-dinner activity. We recommend Punta Arabi, the oldest and largest market on the island. It has a dedicated area for kids!
Check out Ibiza Old Town
There are plenty of attractions in Ibiza, but if we have to name one you definitely must visit, it's the Ibiza Old Town. It encapsulates what Ibiza is all about – quaint cobbled alleys, whitewashed structures, historic cathedral and impressive fortifications. A trip to Ibiza Old Town brings you back to the island's medieval past. Go on a short tour to explore the seven individual bastons, each with its own story to tell. Be sure to bring along your camera, as this is arguably the best photo-taking opportunity for your holiday.