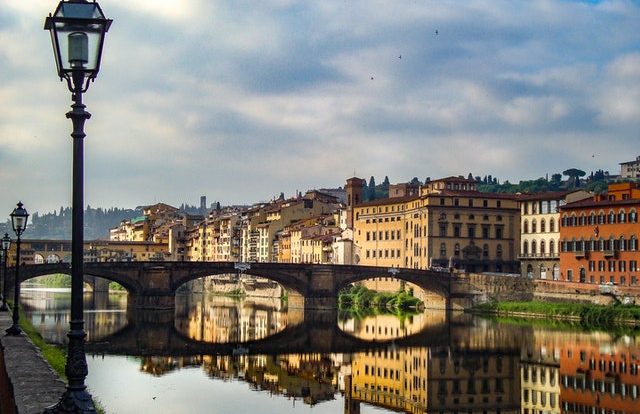 Introduction
If you're considering visiting Florence then you're not alone. There are approximately 16 million people visiting this beautiful city every year. It can get crowded, that's why you need to know the best time to go, where to stay, and what sights you simply can't miss.
Florence is a vibrant city, full of artwork, stunning architecture, and some of the best food in the world.
Once you've sampled it you'll want to stay forever.
When is the Best Time to Visit Florence?
You can visit Florence at any time of the year but Florence in April is truly stunning. It's warm enough to be enjoyed and quiet enough to avoid the majority of the tourists. This will allow you to get the best deals on hotels and enjoy the city.
Of course, April is also around Easter and Florentines take everything chocolate seriously. Giant Easter eggs appear in-store window displays all over the city.
In fact, April is an exciting time to visit, Florence in April has one of the year's biggest and loudest events: an exploding wooden cart. Spring promises renewal, a new start, and the end of Lent.
If you want warmer weather and can cope with bustling streets then visit between May and September. But, to really get a feel for this stunning city, visit Florence in April.
Where To Stay In Florence
There are several hotels worth considering. However, if you're looking for one of the best 4-star hotels in Florence, Italy, then look no further. Hotel Brunelleschi is located in the center of the town, it offers free Wi-Fi, breakfast included, and has great deals in April on some of the best rooms in the city.
You may also be interested to note that it was the first hotel in Florence to adopt all possible anti-COVID measures. This includes designated staff taking care of the same room and cleaning it twice a day, replacement of ventilation filters once a week, and the possibility to dine in the open space (courtyard of the hotel). In addition to the hygienic-sanitary rules imposed by law.
You'll also benefit from water and tea & coffee facilities in your room, upgraded room options, and free cancellation. Hotel Brunelleschi also offers a shuttle service, car parking, a concierge, safe boxes, dogsitting, kids essentials, and even a personal shopper.
Must-Sees While staying In Florence
While you're staying in Florence there are several sites that you simply mustn't miss. These are, of course, alongside meandering through the beautiful streets, chatting to the friendly locals, and sampling the array of delicious foods.
Cathedral of Santa Maria del Fiore and Piazza Duomo
This is where some of the best-known works of art and architecture can be found.
Battistero di San Giovanni
The baptistery of St. John must be seen to be believed, it's the only way to truly appreciate it.
Piazzale Michelangiolo
Here you can enjoy a 360° view of Florence, it's literally awe-inspiring (here you can find more information about Piazzale Michelangelo).
Ponte Vecchio
This stunning bridge has graceful arches and an assortment of shops, specifically jewelers, hanging off the side of it. It's one of the most beautiful parts of the city and a joy to walk through.
Of course, there are many more sights to see and shops to explore. It's time you booked your trip to Florence and saw it all for yourself.